Bradley L. Boyd, D.O.
Board Certified Orthopaedic Surgeon
Joint Replacement Specialist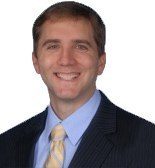 Bradley L. Boyd, D.O.
Dr. Boyd is a fellowship trained joint replacement specialist. He trained at the world renowned Rubin Institute for Advanced Orthopaedic Surgery with world class joint replacement specialists. He specializes in joint replacement and joint preservation surgery of the hip, knee, and shoulder. He has a special interest in performing minimally invasive and muscle sparing joint replacement surgery. He has a focus in muscle sparing anterior hip replacement surgery to minimize injury to the non-diseased portion of the hip joint. He is adept at these advanced techniques to give his patients a quicker recovery and faster return to an active lifestyle. He has extensive training in treating all forms of joint arthritis and avascular necrosis.
Dr. Boyd has a special interest in utilizing technology to perform robotic hip and knee replacement surgery. He also performs computer navigated and patient specific joint replacement surgery. He utilizes all these techniques to provide for the most accurate placement of implants, to obtain the best results, and to increase the longevity of the joint replacements.
Dr. Boyd knows that any musculoskeletal condition can affect all other parts of a person's life. He truly believes in treating the whole person in order to provide for the utmost improvement in quality of life. His aim is to return all of his patients to the active lifestyle that they had before their musculoskeletal condition in order to fulfill their physical and emotional needs. He also performs general orthopaedic surgery on a wide range of musculoskeletal problems and traumatic injuries including fracture treatment in all age groups.
Dr. Boyd completed his undergraduate training at James Madison University where he studied in sports medicine and exercise physiology. He completed medical school at Midwestern University in Chicago. He then completed residency in orthopaedic surgery in York, Pennsylvania. After residency he gained advanced training in joint replacement surgery completing his fellowship in Baltimore, Maryland. He lives in Vienna, Virginia with his wife, two sons, a daughter and their golden retriever. He enjoys running on the W&OD trail and teaching his sons the finer points of soccer and baseball.